More than 140 Years of History
Discover the rich history of Phoenix law enforcement at the Phoenix Police Museum. Trace its roots back to 1881 when Henry Garfias was elected as the city's first City Marshal and explore how far it has come in the present day. Explore a range of artifacts, documents, and photographs that tell an exciting story of service and dedication throughout the years. See firsthand how Phoenix Police have shaped the city and its people. Visit the Phoenix Police Museum today to learn more!
The Phoenix Museum was founded in 1993 by a small group of police employees who wanted to preserve the past. They were dedicated to sharing the rich history of the Phoenix Police Department through exhibits and artifacts, and to promote the way police employees work to make the City of Phoenix safe for all.
We feature Phoenix's law enforcement history for the past 140 years starting from 1881 to present day through historical photography, equipment and stories that bring them to life.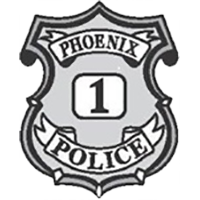 Donate for Badge #1 Project
We have located Phoenix Police Badge #1. It was worn by George Brisbois in 1913. Brisbois went on to become the Chief of Police. We are working on acquiring the badge and make it a permanent part of the museum collection on display to the public.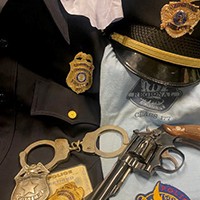 The Phoenix Police Museum is always looking to acquire former Phoenix Police equipment, both official or personal in nature. We are also looking for copies of photos of old Phoenix Police Vehicles, Phoenix Police stations and/or Phoenix Police employees in uniform. To donate, please contact us at [email protected]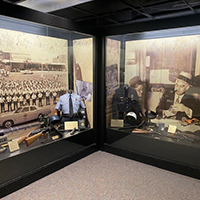 The Phoenix Police Museum is located at 17 South 2nd Avenue in the Historical Old Phoenix City Hall. There is no entrance fee, however, donations are gladly accepted. The entrance is located on the Jefferson Street side of the building. The museum operates from 9 a.m. to 3 p.m., with the last entrance at 2:30 p.m. The museum is closed Fridays, Saturdays, Sundays and all City holidays.
Please schedule a date and time for all group visits; group sizes are limited to no more than 20 persons. A fee of $25 is required upon scheduling. We do require appropriate adult supervision ratio for children and special needs individuals. No pets are allowed; service animals are welcome. If you are requesting a specific date and time, it is best to schedule one month in advance. Public parking is available at the City's 305 Parking Garage located at 305 West Washington Street. We provide a 50% discount coupon for the 305 Parking Garage. There is no public parking at the museum, or an area for bus pick-up/drop-off.
Send us an email at [email protected] with any additional questions you may have.
Click below to schedule a group visit.