The following is a list of Phoenix Police chiefs dating from before the adoption of the city commission form of government in 1914. Between 1914 and the adoption of Charter Reform in 1948, police chiefs and other phoenix offices changed personnel regularly with each municipal election (and sometimes more often). Some were appointed and served as Police Chief/Chief of Police for a short time even though they had no police background. City administrators were regularly appointed to fill a vacancy temporarily. W. C. LeFebvre was both city engineer and city manager as well as the police chief. Joseph C. Furst was a city clerk while chief. Only after the establishment of the charter government committee did stability arrive for Phoenix municipal government and it's police department.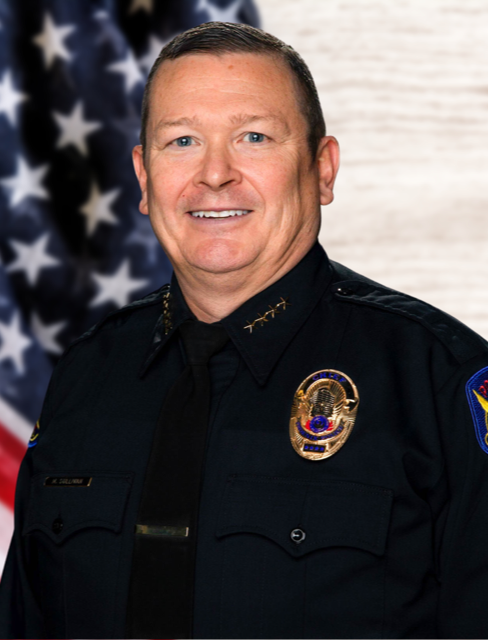 Michael Sullivan is a veteran law enforcement executive with 27 years of operational,  administrative, and command experience in major city environments. The focus throughout his  career has been to foster trust between the women and men of the police department and the  communities they serve.
Sullivan began his law enforcement career in Louisville, Kentucky as a member of the Louisville  Metro Police Department (LMPD). After more than two decades of numerous assignments, he  rose through the ranks and was appointed the Deputy Chief/Chief of Staff (second in command)  of the agency in 2015.
In June 2019, Michael Sullivan was recruited by the Baltimore Police Department (BPD) to  serve as Deputy Commissioner of the Operations Bureau, commanding the Patrol Operations  Division, Criminal Investigation Division, and the Data Driven Strategies Division, encompassing  over 2,500 sworn and civilian members. In 2020, he successfully led BPD's response to the  COVID-19 pandemic and oversaw the agency's nationally recognized deployment response to  mass demonstrations protesting the murder of George Floyd. Sullivan also successfully  redesigned the agency's COMSTAT process to include an emphasis on total command  performance, which led to reduced overtime spending while the City experienced a reduced  level of overall Part I crime.
In June 2021, he took command of BPD's Compliance Bureau as the principal executive  charged with leading reform efforts and begin bringing the agency into substantial compliance  with the mandates of its Federal Consent Decree which was entered in 2017. This was  accomplished by working in collaboration with the community, all Bureaus of the BPD, the  Department of Justice Civil Rights Division, the Court Monitoring Team and the Federal Court. In support of the reform efforts, he commanded the BPD Education and Training Academy,  Information Technology Division, Consent Decree Implementation Unit, Communications and  Records Management Division, Equity Office, and the Performance Standards Section. The  most recent monitoring report in 2022 outlined the significant progress the agency has made,  moving the reform effort from the policy development and training phases into implementation  and assessment of compliance.
Sullivan is a graduate of the Southern Police Institute's Administrative Officers Course, the  Federal Bureau of Investigation National Academy, the International Association of Chiefs of  Police (IACP)/MacArthur Foundation Institute on Juvenile Justice at Yale University, and the  Major Cities Chiefs Association Police Executive Leadership Institute.
In 2018, the Police Executive Research Forum awarded him with the prestigious Gary P. Hayes  Award, which recognizes national leaders in the policing profession. He currently serves on the  IACP Human and Civil Rights Committee.
Sullivan holds a bachelor's degree in police administration and a master's degree in the  administration of justice from the University of Louisville.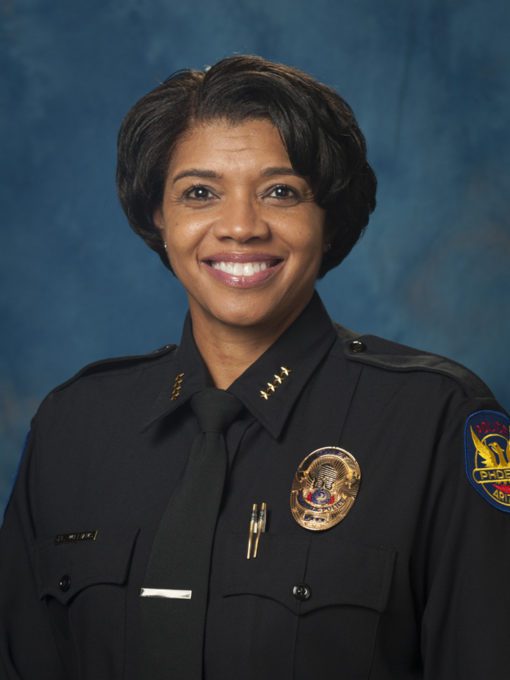 Jeri L. Williams was appointed Police Chief of the Phoenix Police Department in October 2016, one of the largest police departments in the State of Arizona, which provides law enforcement services to the fifth largest city in the United States. Chief Williams managed 2,900 sworn officers and more than 900 civilian employees along with an annual budget that exceeded $600 million.
Chief Williams is a 28-year law enforcement veteran and an accomplished police executive. Under her leadership, the Phoenix Police Department advanced in progressive strategies essential in contemporary law enforcement. Core components of these efforts were centered on the suppression and prevention of crime, the continuation of community engagement and outreach, the promotion of transparency and accountability to increase legitimacy, and the commitment to employees and their well-being.
Previously, Chief Williams served nearly six years as Police Chief in the City of Oxnard, California, where she strengthened police-community relationships and oversaw the implementation of police body-worn cameras.
Chief Williams is a native Phoenician. She began her law enforcement career with the Phoenix Police Department and retired as an Assistant Chief after 22 years of service following her selection as Oxnard Police Chief.
Chief Williams is a member of the International Association of Chiefs of Police (IACP), the Major Cities Chiefs Association (MCCA) and the Arizona Association of Chiefs of Police (AACOP).
During Arizona's Centennial year, Chief Williams was honored as one of Arizona's 48 Most Intriguing Women by the Arizona Centennial Legacy Project, in partnership with the Arizona Historical Society and the Arizona Community Foundation, for her leadership in the law enforcement profession. In 2016, Chief Williams was recognized as California Assembly District 44 Woman of the Year for her leadership and outstanding accomplishments as Chief of the Oxnard Police Department, and in late 2016, President Obama appointed Chief Williams to a membership position on the Medal of Valor Review Board.
Chief Williams holds a Bachelor of Arts degree in Fine Arts from Arizona State University and a Master's degree in Education from Northern Arizona University.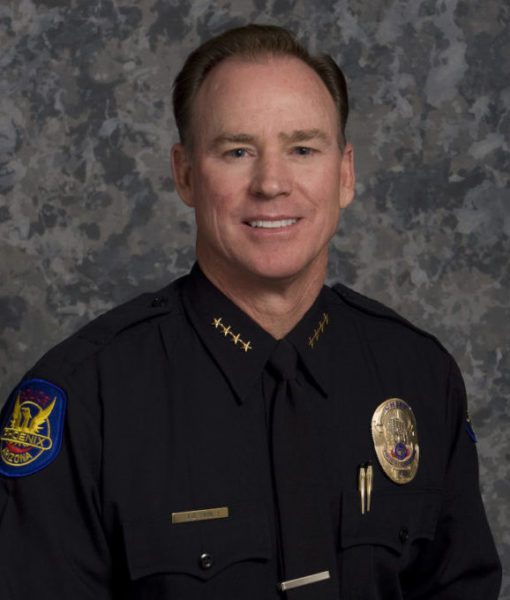 Acting Chief Joe Yahner was appointed as the permanent police chief. Chief Yahner has been the acting chief since December of 2014 and served as the acting chief several years ago. Chief Yahner began with the department 30 years ago and was promoted to commander in 1999. He was assigned to the City Manager's office, the traffic bureau, property crimes bureau and the Maryvale precinct. In 2007, he was promoted to Assistant Chief and assigned to the Homeland Security Division where he oversaw the Super Bowl, NBA All-Star Game and opening of the Light Rail. In 2009 he was promoted to Executive Assistant Chief and served as the Acting Police Chief from March 2011 through May 2012. Chief Yahner was born and raised in Phoenix and received his undergraduate degree from Arizona State University and his Master's degree from the University of Phoenix.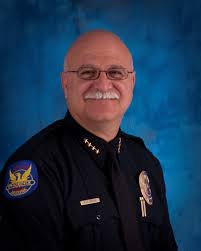 Daniel Garcia was appointed Phoenix Police Chief on Monday, May 14, 2012.   Daniel V. Garcia, was a former assistant chief of the Dallas Police Department.  Chief Garcia was a 33-year veteran of the Dallas, Texas Police Department and had been an assistant chief there since 2004, managing their Communications, Detention Services, Property, and Legal Services Divisions.  He assisted in the implementation of the annual Phoenix Police Department yearly memorial to honor our fallen employees.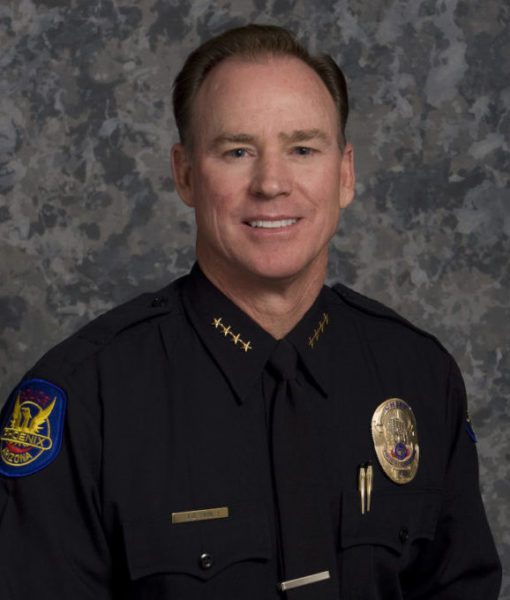 Acting Chief Joe Yahner was appointed as the permanent police chief. Chief Yahner has been the acting chief since December of 2014 and served as the acting chief several years ago. Chief Yahner began with the department 30 years ago and was promoted to commander in 1999. He was assigned to the City Manager's office, the traffic bureau, property crimes bureau and the Maryvale precinct. In 2007, he was promoted to Assistant Chief and assigned to the Homeland Security Division where he oversaw the Super Bowl, NBA All-Star Game and opening of the Light Rail. In 2009 he was promoted to Executive Assistant Chief and served as the Acting Police Chief from March 2011 through May 2012. Chief Yahner was born and raised in Phoenix and received his undergraduate degree from Arizona State University and his Master's degree from the University of Phoenix.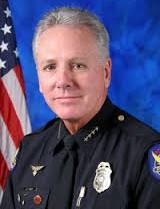 Jack Harris serve as the interim chief when the former Chief Harold Hurtt left for Houston and appointed to Police Chief on March 13, 2004.  Chief Harris served 39 years with the department.  After retiring he became a deputy city manager with the title of public safety manager.  He is a graduate of Phoenix College, bachelor's degree in political science Arizona state university, human resources degree Ottawa University and the FBI academy and FBI National Executive Institute. spearheaded safe city task force, developed first community policing station in northeast Phoenix.  ASU certified Public Manager program.  He served in the Marine Corps reserves and later the National Guard.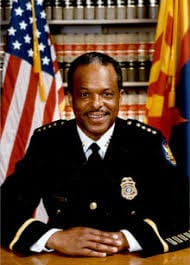 Harold Hurtt served four years in the Air Force before joining the department in 1968.  He rose to the rank of Assistant chief in 1987 and later left to accept a job as the Police Chief of Oxnard, California in 1991.  He returned years later after being appointed the Phoenix Police Chief.  He served as the Phoenix Police Chief from May 11, 1998 until March 12, 2004 after retiring to accept the position as the Houston Police Chief.  Chief Hurtt earned a bachelor's degree from Arizona State University in Sociology, as well as a Masters degree in Organizational Management from the University of Phoenix.  He was also graduate of the Valley Leadership Program and a senior fellow at the University of California at Los Angeles, School of Public Policy and Social Research.  He was also the past President of the Major Cities Chiefs of Police, and a member of the International Association of Chiefs of Police, National Organization of Black Law Enforcement Executives, and the Police Executive Research Forum.  During his time as the department chief, he had a staff of 3,400 and 240 million dollar budget.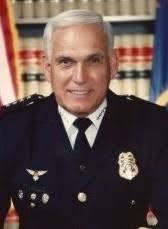 Dennis A. Garrett was appointed Phoenix Police Chief on October 3, 1991.  During his 34 1/2 years with the Phoenix Police Department he worked all the divisions and major bureaus of the organization.  A native of Phoenix he held an Associate of Arts Degree from Glendale Community College, a Bachelor of Science Degree from Northern Arizona University, and a Master of Public Administration Degree from Arizona State University. He was inducted into Arizona State University's College of Public Affairs Hall of Fame in October of 1994. In April 1997, he was inducted into the St. Mary's High School Alumnus Hall of Fame for being an Outstanding Public Administrator, and his biography appears in Who's Who in America. He was selected the 1997 "Man of the Year" for Phoenix, by Valley Leadership.  He was experienced in all major areas of police administration, with a consistent record of achievement in identifying, planning, and implementing long range organizational-wide programs. He has been successful in the application of management concepts, such as organizational development and management by objectives, in both staff and operational commands.  Chief Dennis Garrett retired from the Phoenix Police Department on May 8th 1998. Since his retirement from Phoenix, he has worked as the Director for the Arizona Department of Public Safety, served with Rio Salado College as the Vice Chair of the National Council on Law Enforcement Education and Training (NCLEET).  Chief Dennis Garrett has been an active member of the Phoenix Police Museum and has continued to serve on the museum board as the Executive Director.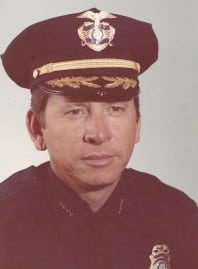 Ruben B. Ortega joined the department in 1960 and served many positions including as a detective and later as a lieutenant, as the chief investigator of racial disturbances.  As a commander he served in the Community Relations Bureau, and as a major, in charge of the Community Services Division.  He was promoted to the Police Chief February 25, 1980 at a time there was a work showdown by officers stemming from contract negotiations between the police union and the city.  During his time as Police Chief the department opened a new defensive driving track, formed the Selective Enforcement Bureau, received accreditation by the Commission on Accreditation for Law Enforcement Agencies (CALEA) and began the Internal Affairs Bureau.  Chief Ortega retired on June 11, 1991 later becoming the police chief for Salt Lake City, Utah.
Assistant Police Chief Robert Kornegay was appointed acting police chief February 1, 1980 when Chief Lawrence Wetzel retired.  Chief Kornegay work six years in administration as well as serving as the Technical Services Chief since 1977 in resolving computers and laboratory equipment issues. He served as Acting chief until February 24, 1980.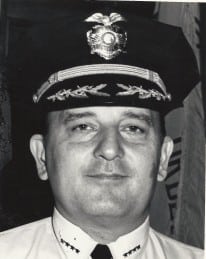 Lawrence Wetzel joined the Phoenix Police Department in July of 1948 receiving his serial number as #121, today the serial numbers are over 10,000). He was called back to active duty briefly in 1950 when the Korean War broke out where he served as a Radio Operator, Mechanic Gunner and B-17 Bomber Crew. Upon his return to the department, he was reinstatement as a Patrolman, later working in the Detectives, Traffic and Patrol Division until making Chief of Police in 1968. He completed the year-long Traffic Police Administration Training Program at Northwestern University Traffic Institute in Evanston, Illinois. Chief Wetzel was appointed on November 18, 1968.  During his time as the Police Chief, chemical MACE was added to equipment officer carried, a civilian ride-a-along program began, three new briefing stations were added, and the Planning and Development, Personnel and Special Operations, and Fiscal Management Bureaus were formed and Community Relations bureau became a division.  The department also reorganized into five divisions, began the crime prevention program Operation Identification, All Colors go with Blue campaign, Sex Crimes detail was formed, as well as adding Air Patrol and training two bomb detection dog teams.  The department also implemented computer technology such as the Computer Aided Dispatch (CAD), the Arizona Criminal Justice Information System (ACJIS).
Chief Wetzel retired January 31,1980 to serve as the Arizona Corporation Commission's Director of Interstate Transportation.  Later in 1985 he was appointed Chief of Security for the Arizona Republic.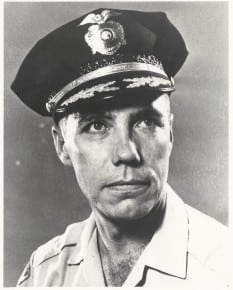 Paul Blubaum was appointed police chief on January 1, 1964 at the age of 38 and was the youngest chief on the department to serve.  Chief Paul Blubaum was a 22-year veteran of the Phoenix Police Department and rose through the marks to become the chief for 5 years.  During his time as chief the department grew from 594 officers to 744.  It went from three to two divisions, and Community Relations bureau was formed.  The Planning and Training bureaus were separated, Operation Crime Stop began, and officers were assigned to work security at Sky Harbor Airport.  The department employed a full-time attorney assigned to the department.  Chief Blubaum worked to improve benefits and working conditions for officers, improvements in equipment and policy issues. He retired November 18,1968 to become a civilian administrative director for the city of Paterson, NJ, police department.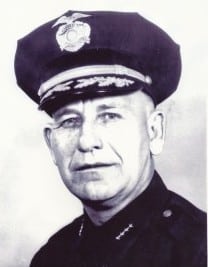 Charles Thomas was appointed as chief on August 16, 1952.  He was a lieutenant prior to his promotion and was selected since the city leaders wanted change and a new direction for the department.  During his time as chief the department went from 173 officers to 534 officers, retirement went from 20 to 25 years and the work week went from 44 to 40 hours.  The department went from four to three divisions, created the first briefing substation, built a new city jail and the department raised steers for jail food. The department began to issue the officers equipment of 38 revolvers, gun belts, handcuffs and purchased new police cars with refrigeration.  The Special Investigations Bureau for VICE and Drugs and Crime Detection Laboratory were established.  New technology of radar speed meters, punch card and photocopy machines were added, and the Records and Information Bureau was created.  The Departments police manual was created as well as a police library.  The first women dispatchers were added, four police women were sworn in with arrest powers, and the first police woman was promoted to sergeant. Chief Thomas retired December 31, 1963.
Chief Earl O'Clair served as chief when the academy was built, and the department received the FM radio system in police cars.  Patrol cars went from two officers to one officer, and Divisions went from three to four.  He began the serial number system for officer identification, serial number 1 was assigned to him.  Chief O'Clair retired June 26, 1952.
During this time the department went from two to three divisions, Officers turned on and off the street lights and collected the coins from the city parking meters.  James Duane resigned May 1st, 1946
Pelham Glassford, former Brig. General as well as Washington D.C. Chief of Police, was hired on March 5, 1936 for $400 a month for a 90-day period. He was given full authority to "make changes that result in the greatest degree of efficiency and increased morale among its members and no member of the department will be involved in politics directly or indirectly."  He was tasked to submit to the city manager and commission recommendations for the selection a permanent police chief.  He was the son of William A. Glassford a pioneer Arizonan and army man and was raised in Arizona.  He also attended West Point.  Chief Glassford served when the department purchased its first police ambulance.
In the Fall of 1932 to increase the safety of students and teachers, Lefebvre placed Phoenix officers at school crossings throughout the city. The chief also warns residence that all bicycles operated in the city must have a bike license, which can be purchased at police headquarters for $.50. On October 1st, 1932 the Phoenix Police Department is assigned the radio frequency 2,430 kilocycles and the call letters K62J for its communication. In November the department begins accepting bids for radios to be placed in 12 police cars. On December 3rd, 1932, the Phoenix Police answer their very first radio call, a fight that had broken out at 16th Street and Jefferson. Earlier on November 15th Chief Lefebvre formed three "Machinegun Squads". On January 12th Lefebvre was named City Engineer and N. W. Matlock, who was serving as Assistant Chief.
Under Roberts command, the Phoenix Police Department was rated one of the best in the nation, comprised of six motorcycles, 8 automobiles (3 large, 5 lighter), 70 men each working 9 hour shifts 6 days a week. Not soon after this accolade the department would add an additional four Ford Touring cars to its repertoire, chosen for their "speedy acceleration and quick getaway".
Only one week into his time as chief, Titel dismisses George O. Brisbois, former chief, who was serving as a Traffic Captain. On July 29th, 1930 it was announced that Oscar Roberts will become chief once he establishes legal residence in Phoenix and Titel would be demoted to Day Captain. On August 2nd, 1930 Oscar Roberts appointed Chief of Police.
Matlock was reinstated on April 2nd, 1930 but was dismissed by the new city commission one month later.
Very little is known about Montgomery other than that by August of 1929 the Phoenix police department was up to 73 men.
Within months of his appointment, 10 new officers join Phoenix Police, brining the department's size to 50, chief, 4 captains, 45 sergeants, traffic officers, detectives and patrolmen. In the tradition of traffic law progression, enacted by previous chiefs, Matlock announced two campaigns. One against anyone operating a vehicle who is under the age of 16 and another that all motorist must pull over for an emergency vehicle when its sirens are sounded. On May 31st, 1929 a city commission removed Matlock and appointed David Montgomery.
As a strong proponent of automobile laws, Brisbois proposes that all drivers should be required to pass a test to prove they are competent drivers. In his continued effort to make Phoenix a clean and safe city, Brisbois bans gambling machines, such as slots machines. Phoenix Police would lose its first officer on February 5th, 1925 when Officer Haze Burch, who was shot by two men attempting to siphon gasoline from a car. In response Chief Brisbois would present Dora Burch with a check for $2,737, collected from various donors. As a champion of progress in traffic laws, Chief Brisbois had cards distributed throughout the city, designed to let citizens report traffic violations. The cards with the driver's information would be returned to the police and a warning letter would be written to the offender by Chief Brisbois. On May 4th, 1928 Chief Brisbois is suspended, likely because of city administration changes and officially dismissed May 8th. N. W. Matlock appointed in his place.
Roberts would replace Wilkerson as Phoenix Police Chief and serve less than 7 months. When a new city manager was hired, Avery Thompson, Brisbois was reinstated as Police Chief.
After an investigation into the corruption of the city manager who presided over Brisbois "retirement", Brisbois was reinstated on April 13, 1915. In an effort to make Phoenix a cleaner and safer city, Brisbois and other officers would regularly raid underground gambling halls. Just as he had enforced the use of headlights at night, Brisbois would implement the "Enos System" where cars park by backing into the curb and face the street. This makes entering the street easier and safer. As the U.S. entered the First World War, as required by President Wilson in the Spring of 1917, all "German Aliens" must surrender "any firearm, weapon or implement of war". By January 1918, all "German Aliens" living within the Phoenix city limits must sign and submit a statement of peace and good intent while residing in the U.S. as well as photos and finger prints. This originally only applied to men, but would soon include women. This would be put into place by Brisbois and the Phoenix Police Department. At this point the Phoenix Police Department had 23 officers on duty. When the Spanish Flue broke out, Chief Brisbois, who had previous nursing experience, and his wife went to Winslow to assist with an outbreak there. Brisbois himself would contract this flu, but only a "light form". The outbreak had reached such severity that those who had contracted that were required to wear masks while in public or face criminal charges. After a tour of California cities, Brisbois returns to Phoenix with the intent to implement the "Gamewell Alarm System", which places call boxes through the city. Brisbois also wished to improve the departments identification system by training each officer on finger prints and employing photographers and chemist. On April 29th 1922 with a change in city government, many city officials were asked to resign, including Brisbois. His replacement would, for the second time, be Robert Wilkerson, who would be replaced by Oscar Roberts, but within little more than a year Brisbois would return as chief.
Previous to his time as Police Chief, Wilkerson was an officer on the Phoenix Police Department. Wilkerson would serve as interim Police Chief on two occasions, once in 1915 and again in 1922.
Brauner would serve from February 1st until March 26th, 1915. Although his term was short, Brauner did manage to hold a Clean Up Day, where unsightly areas were cleaned up and some properties received a notice.
George Brisbois served intermittently as Phoenix Police Chief between 1914 and 1934. Before becoming an officer in 1911, Brisbois worked as a night attendant in the state asylum for the insane. Within a matter of months of being an officer he was promoted to captain. On April 11, 1914 Brisbois was named Moor's replacement. As the city grew that laws had to adapt. Soon after becoming chief, Brisbois ordered officers to bring in every car that was being operated at night without headlights. On January 10, 1915 it was announced that Chief Brisbois would retire affective February 1st and his replacement would be Walt Brauner, who would serve from February 1st until March 26th. The position as chief would then fall to Robert L. Wilkerson who would serve from March 26th to April 13th.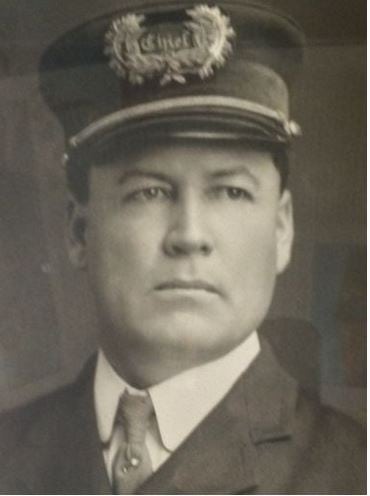 Previously serving as the city Marshal, in 1913 Moore became the first Chief of Police for the City of Phoenix.  The Phoenix Police Department was beginning to expand.  Additional officers were added to the force in the coming years.  Chief Moore started with four officer and ended up with 15.  During this time the department installed its first call boxes.
As the Chief of Police, Johnny encountered many hazards, but one event that occurred on September 16, 1912 by far illustrates the lawlessness of the time.  Moore and three of his assistants were handling a disturbance which began in a saloon during a Mexican celebration.  After safely lodging six or seven of the combatants in jail, he was seriously injured after one of the detainees stabbed him three times.  Moore's condition was critical in the initial period following the attack, but he made a full recovery.  It was later revealed that a thick packet of letters which he had in his shirt pocket spared his life.
In 1924, Johnny ran for and was elected to the office of Maricopa County Sheriff, where he served out a two year term. In 1933, he was re-hired by the Phoenix Police Department and he continued to work for the department until his death on September 14, 1939, which occurred while he was vacationing in California.  Johnny wasa member of the Elks Club which he had been a member for years.
Andrew Jackson "Johnny" Moore is another of Arizona's infamous lawmen or "Peace Warriors." Johnny Moore was larger than life, strikingly handsome, tall in stature. He stood out donning a black ten-gallon western hat when not wearing his police uniform.  He was born June 24, 1875, in Prescott, Arizona. His parents died when he was very young, his mother in 1883 and his father, Jack Moore (also a lawman) in 1885.  Johnny had no other relatives to care for him, so he was forced to survive on his own at the tender age of ten. Despite the odds, he became a self-made man.
He began his career in law enforcement as a deputy for Sheriff Orme in 1897. During his first year on the job, he captured a Mexican outlaw after becoming embroiled in a running gun battle where thirteen shots were fired.  Moore ultimately captured the outlaw hiding under a bed in his own house.  As a lawman, Moore was committed to enforcing the laws of the area and protecting the citizens of Phoenix from the outlaws that roamed the West.
Like many young men of the time, Johnny was quite an accomplished horseman.  When the Spanish-American war began in 1898, he joined the Army and served as an Army Packer.  He was stationed in the Jefferson Barracks in Missouri from May 14th, 1898 to August 28th, 1898, until he contracted Malaria. Moore was discharged from the military due to his health and returned to Phoenix.
Moore resumed a career in law enforcement in 1900 after being appointed a prison guard in the town of Florence, Arizona.  During this time, he became a highly respected member of the Fraternal Order of Knights of Pythias, an organization established following the Civil War dedicated to the cause of universal peace.  Moore remained a prison guard until 1902 when he returned to Phoenix and joined the marshal's office under Marshal Kinney. It was just Kinney and Mooore at the time.  Moore served as Phoenix City Marshal from 1907 until 1912.  Moore served as an officer for 4 years before becoming the Marshal.  Noted for his creativity and quick thinking, during a "impromptu parade" Marshal Moore quickly deployed officers not only to contain the thousands of participants, but to establish law and order.  Moore also, after chasing a man under a building and throwing bottles at him in hopes of getting him out, had the shop owner from which the man stole from to tell the man that he was a "good fellow and desirable citizen". This drew the man out and Moore quickly arrested him.
Mashal Moore dedicated his life to public service in the Arizona law enforcement profession.  When the official Police Department became operational, he was the driving force in making sure the laws were both enforced and observed.  His dedication and skill catapulted him to the top positions within each of the agencies he served.  One of Johnny's natural talents was his keen investigative ability. His skills led to the capture of many infamous criminals.  He worked closely with the Attorney General, George Purdy Bullard, who was then the District Attorney.  Their combined talents ensured the service of justice was consistently bestowed upon the land.
To exemplify Johnny's proficiency, just prior to 1905 he masterminded a brilliant piece of detective work that netted the capture of murderer Florentine Sanchos.  Sanchos had killed a man for a mere fifty cents. When Sanchos went to trial, he received a twenty year prison sentence which was attributed directly to Johnny's expert investigative abilities.  In 1905, Johnny also captured a crook named Hernandez and his accomplice.  The two had robbed the Hammond place of $700 in jewelry, which Moore later found in a river bed, along with other items taken in the crime.
Johnny was elected to the office of City Marshall on May 11, 1907 and continued to be hold the same elected office until 1913 when he became Chief of Police for the City of Phoenix where he served for seven years.
James H. Kinney was also a pioneer of the southwest and Phoenix.  He was born in Brookline, Massachusetts, in 1862, the son of John and Bridget Kinney, and was of Irish descent.  In the early 1860's his parents moved to Michigan, where their remaining days were passed until his father died in 1871.  The family had limited finances, making it necessary for James Kinney to begin to make it on his own. He had limited education but plenty of life experience.  When he was young he worked in the lumber industry as well as on a farm.  As a young man of twenty-five in 1887 when went into Indian Territory, where he remained for a year and a half.  In the spring of 1889 he arrived in Phoenix, and began to work for the firm of the Fowler Brothers.  Later he was employed by Frank Parker and others and spent two years mining.
He later went into business for himself in 1891 as a transfer and hack (cab for hire) line and conducted the business for ten years. He was then elected to the office of city marshal and due to his service it led to his reelections until he had served for three terms, or six years.  Upon his retirement from the marshal's office in 1907 he turned his attention to the real-estate business.  In 1910 he was elected city treasurer and held that office until May 1914.  Marshal Kinney belonged to the Knights of Pythis Fraternity, to the Fraternal Brotherhood, and for fifteen years as a member of the volunteer fire department.  After this service to the he served as the Forest Service Supervisor in Captain, New Mexico.
Hi Hooker served as the Phoenix City Marshal from 1897 until 1901, serving as an officer and jailor before that. He was known as a good-natured man, one September day in 1895, while serving as jailor, he took all the prisoners in the town jail to see the circus parade and was considered a most accommodating host by his prisoners. As a Marshal he once took a single mother and her four children to dinner when they ran out of money while travelling from Maricopa to California. On September 21, 1898, he was accidently shot when his sidearm discharged while Hooker was being brushed off following a shoeshine. Although the bullet ripped through his calf, the marshal was not seriously injured and returned to duty a few days later. Known for his "suavity of manner", in 1900, once arresting an armed man at gunpoint and promptly stating, "I should like to have you join me in a small drink", the pair walked to a nearby bar, enjoyed a drink, then the man was taken to jail. As City Marshall, Hooker would enforce several newly established town ordinances including a requirement that all bicycles being rode at night have a light and an ordinance against spitting on the sidewalks.
Sometimes called Gus, G.C. or Aug, Clark served as the second Phoenix City Marshal from 1895 until 1897. Before his career in law enforcement began, Clark served as chairman for Phoenix's Fourth ward and Fire Chief. Little is known about the events of Clark's time as marshal other than shooting unlicensed dogs that are captured.
William "Billy" Blankenship was an early Arizona Pioneer. He was born in Solano County, California and left home at fifteen to make his own way in the world.  He arrived in the town of Prescott, Arizona in August of 1875 and located in the Williamson Valley. He work for two years as a prospector and other jobs such as chopping wood, waiting on tables, riding mustang horse, shearing sheep and another other work that was available.  In April of 1877, he came to Phoenix and the next year was appointed a Deputy Sheriff Under Sheriff George E. Mowry.  He was elected constable in 1879 and was again appointed as a Deputy Under Sheriff Reuben S. Thomas.  During this time he also worked as a Special Messenger for Wells Fargo Stagecoach Company. He was wounded twice while working for stage that ran between Phoenix and the old Maricopa Station.  Bill Blankenship recovered from his injuries and continued working.
Bill Blankenship was a good friend of Henry Garfias, the Phoenix town Marshal.  He often worked with the Marshal when he was in need.  In 1882, Blankenship was appointed as a Deputy Sheriff under Sheriff L.H. Orme, and in 1884 was elected as a constable.  He was also appointed that same year as a deputy under the next sheriff Noah M. Broadway. He continued to worked on and off with Marshal Garfias.  In 1886, he was again elected to the Constable position.  Later that year, the office of the City Marshall opened and he ran for the position with two other opponents, one his good friend Henry Garfias.  Blankenship won by a 31 majority vote count and became the second city marshal for the town of Phoenix.  In 1889, he was elected by a 226 majority vote, in 1890 by a 176 majority vote, in 1891 by a vote of 173. In 1892 he was re-elected for the fifth time by a much greater majority of 274.  His opponent received only 94 votes out the 455 votes cast.
During the time that Billy Blankenship was the city marshal, he was responsible for a town of 3,000 people with the help of only one assistant, his brother James "Jim" Blankenship.  Billy had an outstanding record of getting his man.  He seldom unnecessary displayed his gun, often walking up to the criminal and giving him a tap on the shoulder and a compelling glance.  The prisoner would simply walk with him to the jail.  His popularity was evident in the fact he was elected to the office of town marshal for eight concessive terms with each term running for one year each.
Blankenship was reported to arrest the suspects in the Goddard murders that occurred in the Black Canyon area. He had received information on the two outlaws and found them working just the other side of the U.S./Mexico border.  He lured them both into the U.S. promising them their back pay from a previous job at which time he arrested them both upon crossing in the U.S.  After leaving the marshal's office Billy Blankenship went to work in Nome, Alaska around 1895 for a mining company.
It was believed that Blankenship was accredited with having captured a large number of criminals and recovered more stolen property than any other officer in Maricopa County.  At the time of his death he had been a deputy sheriff under three administrations and Town Marshal for eight years.  He formerly drove for the Wells Fargo and Company between Phoenix and Maricopa. Upon his death the newspaper reported, "Bill Blankenship is dead. The man who, year after year, was protector of the peace and welfare of the community, died Friday night." (January 5, 1912)
The first Phoenix Town Marshal.
Henry Garfias was elected as a constable of Phoenix Precinct November 1878. Six people ran for two constable position. He collected the 2nd highest votes, 143, to be elected along with "Billy" Blankenship, who received 206 votes. He was on the Maricopa County of Supervisors for the first time. On July 15th, 1876, he was paid $10 to act as an interpreter in court. On November 16th, 1878, Henry was paid $15 for digging a grave and burying a pauper. Garfias was elected to the 2nd two year term as the Phoenix Precinct Constable on November 5th, 1880 with 280 votes. Blankenship got second place with 185 votes. In February 1881, the Arizona legislature approved and the Governor of Arizona signed legislation incorporating the city of Phoenix. The first city election was schedule for May 3, 1881. On April 26th/27th, Henry Garfias declared himself a candidate for the office of Phoenix City Marshal. Garfias received 97 votes, Burnett 79 votes and Thomas Childs 53 votes. In the next election for Phoenix City Marshal, scheduled on May 1, 1883, Garfias received 114 votes, McKean 90 votes, and McDonald 26 votes.
Phoenix had a smallpox epidemic in the spring of 1883. Garfias was "in charge" of all smallpox cases. In December, Garfias was ordered to remove all Indians from the city of Phoenix and to prevent them from entering. In the spring of 1884, Phoenix again held an election for Phoenix City Marshall. Garfias beat out W. E. Williams by three votes. In the election held on May 5th, 1885, Garfias received 279 votes and Louis Vidal 179.
On May 4, 1886 Garfias was nominated for Marshal by Joseph Campbell he later withdrew Garfias' name after making the nomination. Henry ran for re-election without the endorsement and lost by 11 votes to Frank P. Trott who had 216 votes as compared to 205 for Garfias. In the city election of 1887, Garfias applied the job as a zanjero (Spanish for a "ditch digger" and someone who manages the flow of irrigation water to agricultural fields). The position paid $70 a month, two weeks later he was charged with "negligence of duty" for not cleaning the ditches and was fined $12.58.
In March of 1888, the Phoenix city council directed Garfias to hire men to move graves from the old cemetery to the new one. Garfias was paid $169.20 by the city in March and $125.29 in April for this job. Added to this monthly zanjero salary of $70.59, he made $525.67 in 2 months. Garfias lost his Zanjero job in May that year. Garfias main occupation in 1892 was listed as "cattleman" and his residence of record was at "Papago Corner Jefferson" which Papago would later become 3rd Avenue. In 1892, Garfias ran for election as Constable in Phoenix Precinct and lost to Andrew Kirkpatrick. He sought re-election in 1894 and was forth with S. W. Bailey coming in first.
In the spring of 1896, Garfias was gravely injured when riding one of his favorite horses. His mount stumbled, and he was unable to dismount quickly and the horse fell on him. Henry Garfias died about a week after the incident on May 8th at 2 a.m.
Garfias was the City Marshal of Phoenix of 6 years.